Jenny Hull/Executive Director
Jenny Hull, Executive Director of Family Promise of Lycoming County, and her husband Mark are the parents of two daughters and have two grandsons. They attend Faith United Methodist Church in Montoursville PA. Jenny volunteers with Harvest of Hope Food Pantry, Montgomery Community Bible Study.   Jenny graduated with honors from Pennsylvania College of Technology in 2007 and holds a credential as a Strength-based Family Worker(SFW)  through Temple University.  Since coming to Family Promise in 2012, Jenny has assisted over 100 families obtain jobs, assist children get back into school, and families get the help they need to end their homeless situation.
Jenny was promoted from Case Manager to Executive Director in April of 2018 after serving Family Promise for 6 years, and is looking forward to seeing lives changed and futures made brighter for children in Lycoming County.
Megan Riddick/ Case Manager
Megan has always had a heart for ministry. She grew up in the southern part of Atlanta, Georgia. She fell in love with Jesus at a young age and pursued him more as she grew. She was involved with her church working primarily with children and helping teach who Jesus is to them. That passion grew for kids and led her to camping ministry in Alabama and Pennsylvania. There she was able to connect with so many kids. In 2017 she graduated with her Bachelors in Social work, moved to Pennsylvania to work full time and get married to her husband Booker. Together we want to impact as many people for Christ as possible.
Becky Hickernell/ Office Manager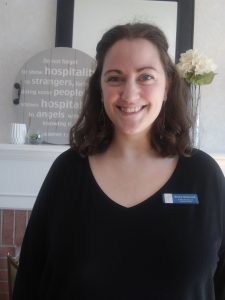 Becky is a fun loving, extroverted introvert, who imperfectly loves Jesus! She is the 7th child out of 8, grew up in Mansfield, and met Jesus at a young age. God opened doors to get involved with a ministry that focused on sharing Jesus with children, and she landed in Philadelphia for a handful of years. While serving there, she meter her husband, David, and they relocated to Williamsport. Becky loves serving in the way God made her to by helping and teaching others so they can grow deeper in relationship with him. David and Becky keep themselves busy serving at their local church, supporting their local book addiction, drinking great coffee, digging through antique places, and loving on their two little parrots.